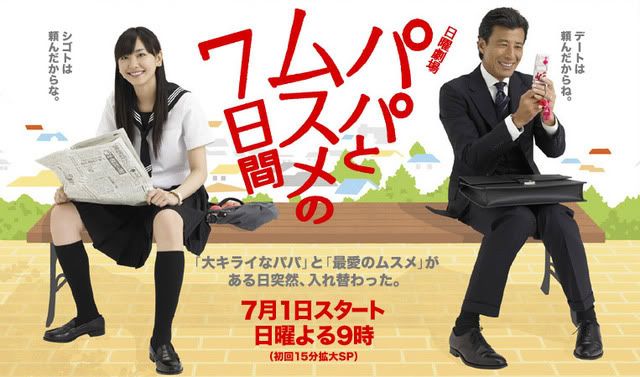 Summary
Alternative Titles: パパとムスメの7日間, Seven days of a Father and Daughter
Genre: Comedy
Episodes: 7
Broadcast: Jul. – Aug. 2007
Starring:

Tachi Hiroshi as Kawahara Kyoichiro
Aragaki Yui as Kawahara Koume
Kato Shigeaki as Osugi Kenta
Kyoichiro and his daughter Koume have a very bad daughter-father realationship. They rarely speak to each other and if they do, they're probably arguing. One day, the Kawahara family goes to the countryside to visit Kyoichiro's mother. When returning from the trip, the train they're travelling on a malfunction which causes Kyoichiro and Koume to become unconscious. When they wake up in the hospital, hey find out they have switched bodies.
Review
When I found out about
Papa to Musume no Nanokakan
, I became very interested in this drama. I expected it to have very original story and be filled with good acting and humour. After completing the drama in only two weeks, I have to say that it lived up to most of my expectations. Firstly, the story was very original and interesting. I thought that each episode had something to contribute to the overvall story. Since the series in only seven episodes, I didn't felt that any of the episodes were just thrown in for no reason.
Each episode just deals with the various problems that Kyoichiro and Koume must overcome after having switched bodies. Kyoichiro (being inside his daughter's body) lives the life of a high-schooler while Koume must learn the ropes of her father's company. The parts showing Koume adapting to her father's workplace might turn-off some people, but I thought they weren't as bad as I originally thought because it doesn't focus too much on business. Generally speaking, each episode had me laughing in at least one scene, but considering the story, I thought there was the potential for a lot more funny scenes. Another major aspect that I enjoyed was the background music.
Papa to Musume no Nanokakan
has the best background music I've heard in any drama. There's absolutely no synthesized music, it's all original orchestral pieces that fit well with what's going on in the plot.
The only major thing I disliked was the acting by Kato Shigeaki (from J-Pop NewS) who plays the soccer player that Koume has a crush on. He is easily the worst actor I've ever seen in any drama. I know many female fans will like his looks, but in my opinion, he shows absolutely no emotion when acting.
view larger screens
Pros
Best background music I've heard in any drama
At least one funny scene in each episode
Overall, acting was good
Ending was perfect
Cons
Although he has the looks, Kato Shigeaki (NewS) is by far, the worst drama actor I've seen (ーー;)
Had potential to be a lot funnier
Recommendation
I think most fans will get plenty of enjoyment from this drama. You should at least give it a try.
Rating:
8.7/10
Video Preview
Here's the first 10 minutes or episode one.