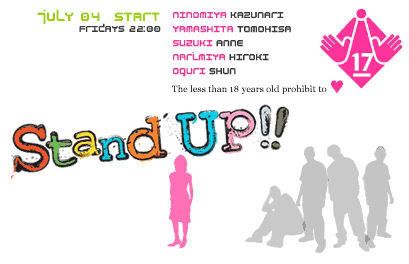 Summary
Genre: Love, comedy
Episodes: 11
Broadcast: Jul. - Sept. 2003
Starring:

Ninomiya Kazunari as Asai Shouhei
Yamashita Tomohisa as Iwasaki Kengo
Oguri Shun as Enami Kouji
Narimiya Hiroki as Udagawa Hayato
Suzuki Anne as Oowada Chie
Four friends are teased by their schoolmates as the only virgins in the entire school. When summer break begins, they go on a mission to end their virginity. During the break, one of their childhood friends named Chie, comes back to her four best friends after 11 years apart. However, Chie isn't the beautiful girl they once knew 11 years ago. Despite seeing Chie again, the four buddies continue their mission. Shouhei gets a crush on his English teacher and tries to win her love. Kengo tries to convince his stubborn girlfriend to have sex with him. Soccer team captain, Kouji and the panties-loving Hayato, also continue their journey to get laid.
Review
When I first found out about
Stand Up!!
, I realized that many people were saying that it's like the American Pie of Japanese dramas. I agree that
Stand Up!!
and
American Pie
has some similarities, but after watching the entire series,
Stand Up!!
turns out to be very different. I have to emit that before watching the entire series, I really did think
Stand Up!!
was going to be very similar to
American Pie
. In other words, I thought that it would just be about a group of guys trying to get laid. After watching the series, I noticed it had some story elements about friendship and romance that provide plenty of drama to the series. The stuff about getting laid and other mature stuff provides tons of humour. In the end,
Stand Up!!
is a great mix of friendship, romance and humour.
The two most important things about
Stand Up!!
that made it an enjoyable drama was the humour and the characters. There's always at least one funny scene in each episode and of course, there wouldn't any humour without the huge line-up of funny and unique characters. The drama even portrays the whole community that is home to the main characters, including parents and fellow classmates. I especially like how there's a couple of entertaining minor characters that make an appearance in every episode.
Another plus-side is the cast that plays the major characters. You can't get a better all-star male cast than the one in Stand Up!!. Ninomiya Kazunari and Yamashita Tomohisa are from extremely popular boy bands Arashi and NEWS, respectively. Oguri Shun, Narimiya Hiroki, and Suzuki Anne are popular actors who you may remember from some popular dramas and movies. All of these actors do a exceptional job portraying their characters. I wasn't overly disappointed with any of the acting by the major characters.
view larger screens
?Perplexing?
Stand Up!!
does deal with mature subjects, but there's absolutely no full nudity from episodes 1 to 10. However, to my surprise, there was a flash of frontal nudity in the last episode. It came without warning and it was very awkward and definitely didn't fit with in the series.
Pros
A lot more than just about getting laid
Good mix of humour, romance, drama
One of the funniest dramas I've seen
Good line-up of characters
Well-known cast
Minor characters that make appearances every episode
Wacky music fits well with some of the scenes
Cons
Story was a bit weak in the first two episodes
Recommendation
Stand Up!! has something for everyone, because of its mix of genres. I definitely recommend it to all drama fans, but since it does deal with mature subjects, I only recommend it to people over 16.
Rating:
9.5/10