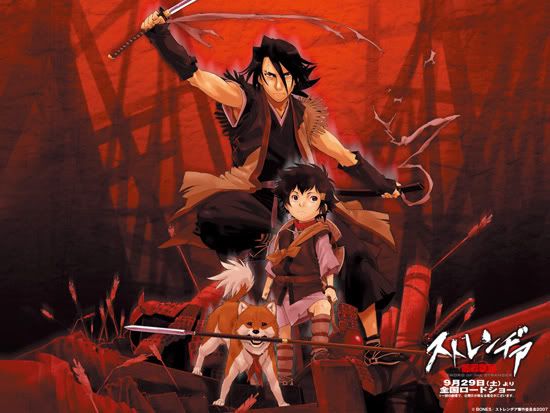 Summary
Alternative Titles: ストレンヂア -無皇刃譚-, Mukoh Hadan
Genre: Action, adventure
Release Date: Sept. 29, 2007
While being attacked by solders from China, a young boy named Kotaru is saved by a samurai named Nanashi. Still unaware of why the Chinese would want Kotaru, Nanashi agrees to protect him.
Review
Ironically, I've never watched a historical anime movie even though I'm a huge fan of historical movies. Even by watching the first few minutes of the movie, I knew that Sword of the Stranger was going to be one of the best anime movies I've watched. After watching the whole movie, it didn't disappoint. Sword of the Stranger is action-packed film, so I expected the action sequences to be good. But to my surprise, it was a lot better than I had thought. So much so that I think this movie has the best fight scene animation I've ever seem is an anime series or movie. The animation for the action scenes were smooth and crisp, the choreography was unique, and there was a lot of exaggerated gore like spraying blood. In addition, the music was also very well done, especially for the action scenes. The background music added even more excitement to the fight scenes.
Also, you might think the story is pretty basic, but it's actually pretty good, with plenty of twists to keep it interesting. My summary is very basic because I didn't want to give away too much of the story.
I didn't have any major things I disliked, only a few minor things. My first dislike was that I thought some of the action sequences were way too fast, especially in the last scene. I even had to rewind and re-play several scenes to actually figure out what happened. However, I consider this to be minor because I think it adds some excitement to the movie. Another thing I disliked was how some of the characters were killed off too quickly. I really wanted to see them in more action because they seemed like good fighters, but they're quickly killed at the beginning of a battle.
view larger screens
Pros
Some of the best animated fight scenes I've ever seen
Fight scenes were smooth, crisp, unique and exciting
Music adds even more excitement to the fight scenes
A lot of exaggerated gore
Cons
Some parts of the fight scenes were way too fast
Some characters killed off too quickly
Recommendation
If you're into action/adventure anime, then this is a must-watch.
Rating:
9/10
Video Preview
Here's a short teaser showing the beginning of a fight.
Related Reviews
(historical/quasi-historical)
Shinobi – Heart Under Blade
Azumi
Azumi – Death or Love