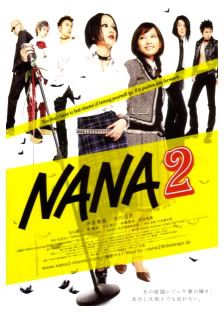 Summary
Genre: Romance
Release Date: Dec. 9, 2006
Starring: Nakashima Mika as Osaki Nana, Ichikawa Yui as Nana "Hachi" Komatsu

NANA 2 takes place after the events of the first movie. Komatsu Nana meets her favourite member of the popular rock band TRAPNEST, Takumi. Takumi brings Nana to his hotel room and the next thing you know, he starts liking her. Meanwhile, Osaki Nana has her doubts about Takumi and is experiencing difficultly in her own life. Both girls must now keep their friendship from falling apart and deal with their issues in life.

Interesting Fact
Many of the actors and actresses in NANA did not reprise their role in NANA 2. The most notable change is that Miyazaki Aoi no longer plays Komatsu Nana. Other changes include the characters of Ren and Okazaki Shinichi.

Review
Just like the First NANA movie, NANA 2 is flat-out boring to sit through. There are tons of moments where nothing is happening. Moments where one character is just starring at another character, no dialogue, no movement, no action...no joke. I also noticed that many of these scenes are boring because there's a lack of background music. Background is important in any movie. In NANA 2, there's scenes where a lot of drama is going on, but absolutely no background music is present. Having more background music would have greatly reduced the boringness.

To makes things worse, NANA 2 ended without finishing the Takumi storyline. Close to the ending, you get to find out something about Takumi that's a bit shocking, but then the movie ends and the story feels a bit uncompleted.


view larger screens

Pros

Real-life J-music artist, Yuna Ito does a nice short preformance
Story does get a bit more interesting halfway through...
Cons
...but shortly after that, it gets boring again
just flat-out boring throughout
lack of background music (especially in very dramatic scenes)
minor cliffhanger at the end
it's more than 2 hours long
I thought Miyazaki Aoi played Komatsu Nana better
Recommendation
Unless you enjoy
every
aspect of the first
NANA
movie, I suggest you stay away from this one.
Rating:
6.5/10