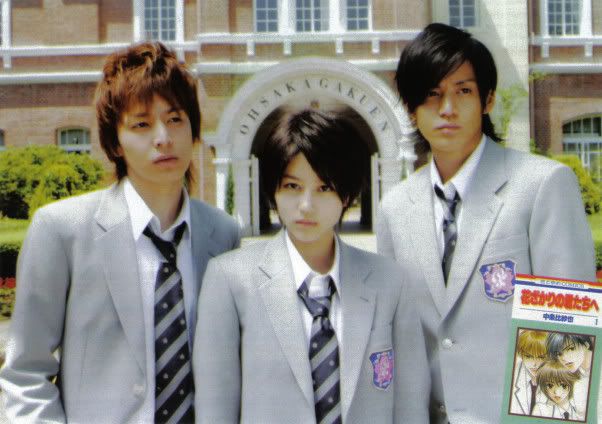 Summary
Alternative Titles: 花ざかりの君たちへ, For You in Full Blossom, Hanazakari no Kimitachi e
Genre: School, comedy, romance
Episodes: 12
Broadcast: Jul. - Sept. 2007
Starring:

Horikita Maki as Ashiya Mizuki
Oguri Shun as Sano Izumi
Ikuta Toma as Nakatsu Shuichi
Ashiya Mizuki is a Japanese girl living in the United States. One day, she sees Sano Izumi compete in a high jump competition on TV and Sano immediately becomes her idol. However as time passes, Sano stops high jumping. Ashiya decides to travel to Japan so that she can attend the same school as Sano and convince him to high jump again. However, Sano attends an all-boys school so Ashiya must look and act like a male student.
Review
Hana Kimi
is probably one of the most hyped J-dramas ever. In my opinion, it didn't quite live up to the hype. The number one thing I disliked about
Hana Kimi
is the overall silliness. There are just so any scenes with dozens of students doing random and ridiculous things in the background. The more serious and romantic scenes were kind of weak since all of those wacky scenes dominated most of
Hana Kimi
. I just wished it had a more serious tone to it in some of the scenes.
Another major thing I disliked were cliff-hangers at the end of some episodes. This somewhat relates to what I said previously. Some episodes end with a nail-biting, dead serious cliff-hanger, but when you watch the next episode, the cliff-hanger gets finished right away and turns out to be not so serious. In other words, they're just useless cliff-hangers that don't add anything to the story and are there so that you'll watch the next episode. Watch the cliff-hanger at the end of episode 4 then watch beginning episode 5, then you'll know what I mean by "useless cliff-hangers".
On the other hand, I liked the fact that Horikita Maki plays the main role. Also, there were many twists in the story that kept me interested in continuing the series. In addition, not all the cliff-hangers were bad. There were some that added to the overall story and kept the story moving.
view larger screens
Pros
Horikita Maki plays the main role
Enough twists in story to keep you interested in continuing the series
There's TONS of Japanese boys with long hair…I always like to put in something for the female readers(⌒▽⌒)
There were some funny scenes
Cons
Many scenes are way too silly, there's dozens of people doing random things in background
Some cliff-hangers don't add anything to the overall story, they're just there so you'll watch the next ep.
Some of the school "challenges" were too weird for me
The last ep. had too many boys dressed as girls (-_-')
Recommendation
I bet many people have already watched
Hana Kimi
due to the hype. I don't strongly recommend that you watch it, but it's an ok drama to sit through.
Rating:
8.5/10
Video Preview
Here's the first 10 minutes of episode 1:
Related Reviews
(school dramas)
Dragon Zakura
My Boss My Hero
Nobuta wo Produce