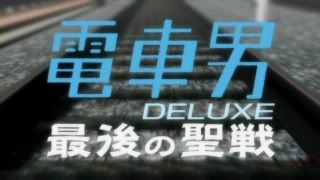 Summary
Alternative Titles: 電車男デラックス, 最後の聖戦, Densha Otoko Deluxe
Genre: Romance, comedy
Episodes: 1 (1.47 hr.)
Broadcast: Sept. 23, 06
Starring: Itoh Mizaki as Aoyama Saori, Itoh Atsushi as Yamada Tsuyoshi
Related: Densha Otoko (orig. series) review, Another Final SP review (1st SP)

Densha Otoko DX takes place a year after the events of the original series and the first special. It starts off by introducing the drastic changes that are happening in the Akihabara distict of Tokyo. (see my review of the orig. series for more info on Akihabara). In the original series, Akihabara was the Holy Land for otakus, a place where they are safe from the rest of Tokyo. However, normal people have started to go to Akihabara and torment the otakus, causing most of them to go into hiding.

Meanwhile, Tsuyoshi tries to propose to Saori, but he fails. Tsuyoshi returns to forum and tells his story. While he's trying to propose, something else is going on. Densha Otoko has now become very popular, but no one knows his real identity so a large corporation mysteriously offers one million yen to anyone who can find his real identity...

Interesting Fact
- A girl idol group named AKB48 or Akihabara48 makes a short appearance in Densha Otoko DX
- They have their own theater in Akihabara and they do weekly performances
- They are quite popular among the otaku in Akihabara

Review
Densha Otoko DX is the best (and longest) drama special that I've ever watched. Densha Otoko DX has the same great elements found in the original series. All the classic characters, funny scenes, and otakuness are back! Basically, everything that I said was good about the orig. series remains the same for DX.

When comparing it to the first special, Densha Otoko DX is a lot better. One thing I thought they really improved on is the plot. DX had a more interesting plot than the first special. I also thought that DX had a much higher production value than the orig. series. It had more extra actors in many scenes and they actually went to Tahiti to film part of it.



Same great characters and hilarious scenes
Some very touching moments (esp. towards the end)
Ending was really nice (T▽T)
Plot is more interesting than 1st special
Increased production values
Star wars music!
Cons
Recommendation
If you enjoyed the original series then this special is must watch! Note that you don't need to watch the first sp. to understand DX.
Rating:
10/10